Transportation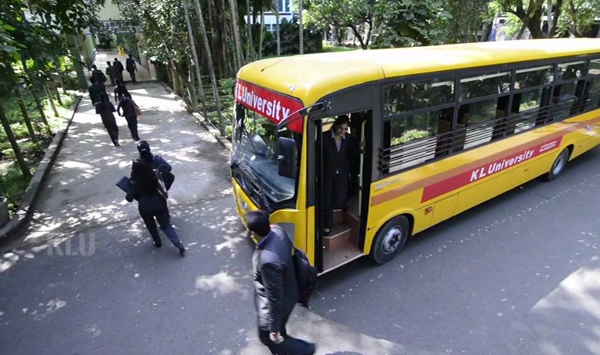 Transportation:
The institution runs 81 buses covering all the important points in Vijayawada City, Mangalagiri, Guntur,Tenali & Amaravathi towns with a total seating capacity of 4000 students in two shifts.
Ambulance Service is available 24 hrs in case of any emergency in the institute / hostels.
Transportation is available for conducting industrial tours and visits etc.
Regular transport facility available up to 8:10 PM.

First year students (2018-19 admitted) can pay the transportation fee through SBI E-collect by mentioning their admission number in place of roll number or university number. Transport Fee Payment Procedure 2018-19
Second, third, & final year B. Tech, M. Tech and all other senior students of non engineering disciplines can pay their transportation fee by logging in to https://exams.kluniversity.in
University Bus Timings:
VIJAYAWADA - MORNING SHIFT - BUS ROUTE POINTS & TIMINGS
Route
No.
Stages in the Route
Starting
Time
Leaving
Time
Amount
1-A
Kankipadu - Gosala - Edupugallu - Gangur - Penamaluru - Seetapuram Colony - Krishnaveni
6.15 AM
1.45 PM
20000
1 B
Poranki - Tadigadapa - VRSE - Kamaiah Thopu - Pappula Mill
6.20 AM
1.45 PM
20000
1 C
Ashok Nagar - Chowdary Pet - Old Check Post - Autonagar Gate
6.20 AM
1.45 PM
20000
5 B
High School Road - Postal Colony - Patamata - NTR Circle
6.25 AM
1.45 PM
20000
5-A
Eenadu - Varun Motors - P&T Quarters - D.V. Manor - Kandhari - Chennupati Petrol Bunk-Veterinary Hospital
6.25 AM
1.45 PM
20000
4A-1
Peda Avutupalli - Chinna Avutupalli - Gannavaram - Kesarapalli - Gudavalli
6.00 AM
1.45 PM
22000
4-A
Nidamanuru - Enikepadu - SER Centre - Prasadampadu (Toyota)
6.10 AM
1.45 PM
20000
4 B
Ankamma temple - Ramavarrapadu Bunk - Currency Nagar - NTR Health University - Bank Colony
6.20 AM
1.45 PM
20000
4 C
Vinayak Theatre - Sri Nagar Colony - Ramesh Hospital - Stella College - Talwakers - Screw Bridge - Balaji Nagar - Ice Factory
6.25 AM
1.45 PM
20000
3-A
ITI Bus Stop - Sunnapubattilu - Siddartha Arts College
6.20 AM
1.45 PM
20000
3 B
Jemmichettu - Madhu Gardens - Moghal Rajpuram - Sikamani Centre - Red Circle
6.25 AM
1.45 PM
20000
2-A
E.S.I - Gunadala - Padavala Revu - Machavaram Down - SRR. College - Maruthi Nagar - Nimma thota
6.20 AM
1.45 PM
20000
2 B
Chuttugunta - Sitarampuram - Kothavantena - Vijaya Talkies - Rama Mandiram - Apsara
6.25 AM
1.45 PM
20000
2 B1
Manipal Hospital - Tadepalli X Roads - Highway Towers - Aravinda School - Kunchanapalli
6.35 AM
1.45 PM
12000
6-A1
Nunna - Bodapadu - Power Grid - LBS Nagar - Payakapuram
6.00 AM
1.45 PM
22000
6-A
Prakash Nagar - Pipula Road - Ajith Singh Nagar - Daba Kotlu Centre - Budameru Bridge - Raghavendra Theatre
6.10 AM
1.45 PM
20000
6 B
Prabhas College - Sitanna Pet Gate - Ambedkar Statue - Eluru Locks - Challapalli Bunglow
6.15 AM
1.45 PM
20000
6 C
Sangeetha Kalasala (Food Junction)
6.25 AM
1.45 PM
20000
6 D
Madhura Nagar - Kotha Vanthena - Inox (Urvasi Theatre) - Alankar Theatre - Bundar Lakulu -
Fire Station - American Hospital
6.20 AM
1.45 PM
20000
7-A
Sai Baba Temple - B. Colony Center - A colony Gate - IBM (SBI ATM) - Tummalapalem - Khazipeta - Guntupalli Center - Wagon Work Shop Road - Nallakunta
6.00 AM
1.45 PM
22000
7 B
Gollapudi One Center - Mailurai Center - Andhra Hospital - Venkatesh Foundary - Swathi Theatre - Sivalayam
6.15 AM
1.45 PM
20000
7 C
Joji Nagar Church - Sitara
6.20 AM
1.45 PM
20000
7-D
Chitti Nagar - Vagu Centre - Srinivas Mahal - Panja Centre - Rajakumari Theatre - K.R. Market -
Government Hospital
6.25 AM
1.45 PM
20000
GUNTUR - MORNING SHIFT - BUS ROUTE POINTS & TIMINGS
Route
No.
Stages in the Route
Starting
Time
Leaving
Time
Amount
8-A
Chillis Dhaba - Nagaralu - Medical Hostel
6.00 AM
1.45 PM
22000
8-B
Anjaneya Swamy Temple - Ala Hospital - Rama Buildings - SBI - Lodge
6.05 AM
1.45 PM
22000
8-C
S.V.N. Colony - Stambala Garuvu - Collector Office - SBI - 3 Bommala Centre
6.00 AM
1.45 PM
22000
8-D
Gujjana Gundla - Chalapathi Grounds - Guest House - Vidya Nagar
6.05 AM
1.45 PM
22000
8-E
Saibaba Road - Koritapadu - Sankara Vilas
6.05 AM
1.45 PM
22000
8-F
Hanumaiah Company - Rajendra Nagar - Venkateswara Swamy Temple - Gardens - NTR Stadium
6.00 AM
1.45 PM
22000
8-G
Seetharamaiah High School - Baker's Fun - K F C - Union Bank
6.05 AM
1.45 PM
22000
8-H
Syamala Nagar - Recruitment Office - Pattabhi Puram Petrol Bunk - Swamy Theatre - Jute Mill - TJPS College
6.00 AM
1.45 PM
22000
8-I
Housing Board - A.T. Agraharam - Chuttugunta
6.00 AM
1.45 PM
22000
8-J
I.T.C - Vijaya Lakshmi Theatre - Ethu Road - Market - Old Bus stand
6.05 AM
1.45 PM
22000
8-K
Bus Stand - Padmaja Petrol Bunk - Peda Kakani - Nambur - Highway (Service Road)
6.15 AM
1.45 PM
22000
8-K1
Kaza
6.30 AM
1.45 PM
16000
8-TU
Thullur - Rayapudi - Lingayapalem x Road - Uddandayapalem x Road - Velagapudi - Malka puram -
Mandadam - Venkata palem - Krishnaya palem - Penumaka
5.45 AM
1.45 PM
22000
8-TU1
Undavalli - Tadepalli Town
6.20 AM
1.45 PM
14000
TENALI - MORNING SHIFT - BUS ROUTE POINTS & TIMINGS
Route
No.
Stages in the Route
Starting
Time
Leaving
Time
Amount
9-A
Chinnaravuri Park - Sai Baba Temple - Bilal Hotel (Kothavantena)
5.40 AM
1.45 PM
20000
9 B
Montessori (Krishna Temple) - Round Centre (Sivaji Bomma) - ASN College - Samrat Hotel
5.40 AM
1.45 PM
20000
9 C
Angalakuduru - Sultana Bad - Chenchu pet - Station Road - VSR College - Katevaram - Nandivelugu - Duggirala (Cinema Hall) - Coffee Factory - Mormapudi - Tummapudi
5.40 AM
1.45 PM
20000
9 C1
Revendrapadu - Pedavadlapudi - Atmakur Bye pass - Nirmala Convent
6.15 AM
1.45 PM
12000
VIJAYAWADA - GENERAL SHIFT - BUS ROUTE POINTS & TIMINGS
Route
No.
Stages in the Route
Starting
Time
Leaving
Time
Amount
1-A
Kankipadu - Gosala - Edupugallu - Nalanda - Gangur - Gangur Centre - Chapala Kundilu
7.40 AM
5.20 PM
20000
1-B
Penamaluru - Ramapuram Colony - Krishna veni - Poranki - Tumula Centre - Boppana
8.00 AM
5.20 PM
20000
1-C
Tadigadapa - VRSE - Kamayya Thopu - Pappula Mill
8.05 AM
5.20 PM
20000
1-D
Time Hospital (Ashok Nagar) - Chowdary Pet - Old Check Post
8.10 AM
5.20 PM
20000
1-E
Auto Nagar Gate - High School Road
8.15 AM
5.20 PM
20000
5-B
Postal colony - Patamata - N.T.R Circle
8.15 AM
5.20 PM
20000
5-S
Sasanka Hostel Bus - Eenadu
8.15 AM
5.20 PM
20000
5-A
Varun Motors -P &T Quarters - D.V. Manor - Kandhari - Veterinary Hospital
8.15 AM
5.20 PM
20000
4-A
Peda Avutupalli - Chinna Avutupalli - Gannavaram - Gandi Bomma Centre
7.30 AM
5.20 PM
22000
4-B1
Kesarapalli - Gudavalli
7.50 AM
5.20 PM
22000
4-B
Nidamanuru - Enikepadu - Bank Centre - SER Centre - Prasadampadu (Toyota)
7.55 AM
5.20 PM
20000
4-C
Ankamma temple - Ramavarrapadu Bunk - Currency Nagar - NTR Health University
8.05 AM
5.20 PM
20000
4-D
New Govt. Hospital - Bank Colony - Vinayak Theatre - Sri Nagar Colony - Ramesh Hospital
8.10 AM
5.20 PM
20000
4-E
Stella College - Talwakers - Screw-bridge 01 - Screw Bridge 02 - Balaji nagar - Ice Factory
8.15 AM
5.20 PM
20000
3-A
I.T.I College - LIC Colony - Sunnapubattilu - Siddartha Arts College - Chennupati Petrol Bunk
8.00 AM
5.20 PM
20000
3-B
Jemmichettu - Madhu Gardens - Moghal Rajpuram - Sikamani Centre - Red Circle
8.05 AM
5.20 PM
20000
2-A
E.S.I - Gunadala - Padavala revu - Machavaram Down - Anjaneya Swamy Temple - Chuttugunta - Nimma Thota
8.00 AM
5.20 PM
20000
2-B
SRR. College - Maruthi Nagar - Sitarampuram - Kothavantena - Vijaya Talkies - Rammandiram - Apsara
8.05 AM
5.20 PM
20000
2-B1
Manipal Hospital - Tadepalli X Roads - Highway Towers - Aravinda School - Kunchanapalli
8.20 AM
5.20 PM
12000
VIJAYAWADA - GENERAL SHIFT - BUS ROUTE POINTS & TIMINGS
Route
No.
Stages in the Route
Starting
Time
Leaving
Time
Amount
6-A1
Nunna - Bodapadu - Power Grid - LBS Nagar - Payakapuram
7.40 AM
5.20 PM
22000
6-A
Prakash Nagar - Pipula Road - K.L. Rao Road
7.50 AM
5.20 PM
20000
6-B
American Hospital (Singh Nagar) - Daba Kotlu - Budameru Bridge
7.55 AM
5.20 PM
20000
6 C
Raghavendra Theatre - Prabhas College
8.05 AM
5.20 PM
20000
6 D
Meesala Rajarao Bridge - Ambedkar Statue - Eluru Lakulu - Bunder Lakulu - Fire Station - American Hospital
8.05 AM
5.20 PM
20000
6-E
Sangeeth Kalasala (Food Junction)
8.10 AM
5.20 PM
20000
6-F
Madhura Nagar - Kothavanthena - Inox (Urvasi Theatre) - Alankar Theatre -Challapalli Bunglow
8.05 AM
5.20 PM
20000
7-A
Sai Baba Temple - B. Colony Center - A colony Gate - IBM (SBI ATM) - Tummalapalem - Khazipeta
7.30 AM
5.20 PM
22000
7-B1
Guntupalli Center - Wagon Work Shop Road - Nallkunta (Rayanapadu Road) - SSS Colony
7.40 AM
5.20 PM
22000
7-B
Gollapudi One Centre
7.45 AM
5.20 PM
20000
7-C
Mile Roy Centre - Andhra Hospital - Venkatesh Foundary - Swathi Theatre - Sivalayam
7.55 AM
5.20 PM
20000
7-D
Joji Nagar Church - Sitara
8.00 AM
5.20 PM
20000
7-E
Chittinagar - Vagu Centre - Srinivas Mahal
8.05 AM
5.20 PM
20000
7-F
Panja Centre - Rajakaumari Theatre - K.R. Market
8.10 AM
5.20 PM
20000
Vijayawada (A/C)
7.40 AM
5.20 PM
33000
GUNTUR - GENERAL SHIFT - BUS ROUTE POINTS & TIMINGS
Route
No.
Stages in the Route
Starting
Time
Leaving
Time
Amount
8-A
Chillis Dhaba - Nagaralu
7.30 AM
5.20 PM
22000
8-B
Medical Hostel - Anjaneya Swamy Temple
7.35 AM
5.20 PM
22000
8-C
Ala Hospital - SBI - Rama Buildings - Lodge
7.35 AM
5.20 PM
22000
8-D
S.V.N. Colony - Market
7.30 AM
5.20 PM
22000
8-E
Gujjana Gundla - Chalapathi School - Guest House
7.30 AM
5.20 PM
22000
8-F
Vidya Nagar
7.35 AM
5.20 PM
22000
8-G
Sai Baba Road
7.35 AM
5.20 PM
22000
8-H
Koritapadu
7.40 AM
5.20 PM
22000
8-I
Hanumaiah Company - Rajendra Nagar - Venkateswara Swamy Temple
7.30 AM
5.20 PM
22000
8-J
Gardens - N.T.R. Stadium - Seetharamaiah High School
7.35 AM
5.20 PM
22000
8-K
Baker's Fun - K F C - Union Bank
7.40 AM
5.20 PM
22000
8-L
Sankar Vilas
7.42 AM
5.20 PM
22000
8-M
Syamala Nagar - Recruitment Office - Pattabhi Puram
7.30 AM
5.20 PM
22000
8-N
Stambala Garuru - Swamy Theatre - T.J.P.S. College - Collector Office - SBI - 3 Bommalu Centre
7.40 AM
5.20 PM
22000
8-O
Vengalayapalem X road - Nallapadu - Chuttugunta
7.30 AM
5.20 PM
22000
8-P
Housing Board - A.T. Agraharam
7.30 AM
5.20 PM
22000
8-Q
I.T.C - Vijaya Lakshmi Theatre - Ethu Road
7.35 AM
5.20 PM
22000
8-R
Old Bus Stand - Peda Kakani
7.50 AM
5.20 PM
22000
8-S
N.T.R. Circle - R.T.C. Bus Stand
7.50 AM
5.20 PM
22000
GUNTUR - GENERAL SHIFT - BUS ROUTE POINTS & TIMINGS
Route
No.
Stages in the Route
Starting
Time
Leaving
Time
Amount
8-T
N.T.R. Circle - R.T.C. Bus Stand
7.55 AM
5.20 PM
22000
8-U
N.T.R. Circle - R.T.C. Bus Stand
7.55 AM
5.20 PM
22000
8-V
Padmaja Petrol Bunk - Sims College - Nambur - Rain Tree Park
7.58 AM
5.20 PM
22000
8-V1
Kaza
8.15 AM
5.20 PM
16000
8-W
Guntur (A/C)
7.30 AM
5.20 PM
35000
8-TU
Thullur - Rayapudi - Lingayapalem x Road - Uddandayapalem x Road - Velagapudi - Malka puram -
Mandadam - Venkata Palem - Krishnaya Palem - Penumaka
7.30 AM
5.20 PM
22000
8-TU1
Undavalli - Tadepalli Town
8.10 AM
5.20 PM
14000
TENALI - GENERAL SHIFT - BUS ROUTE POINTS & TIMINGS
Route
No.
Stages in the Route
Starting
Time
Leaving
Time
Amount
9-A
Chinnaravuri Park - Sai Baba Temple (Swaraj Theatre) - Bilal Hotel (Kotha Vanthena)
7.30 AM
5.20 PM
20000
9 B
Montessori (Krishna Temple) - Round Centre (Sivaji Bomma)
7.30 AM
5.20 PM
20000
9 C
Angalakuduru - Sultana Bad - Govt. Hospital - Donka Road - Chenchu pet - Station Road
7.25 AM
5.20 PM
20000
9 D
Aitha Nagar - SBI - A.S.N. College (Chakali Cheruvu) - Samrat Hotel
7.30 AM
5.20 PM
20000
9 E
Bus Stand - VSR College - Jashuva Nagar - Katevaram - Nandivelugu - Chinthalapudi - Duggirala (Cinema Hall) - Coffee Factory - Mormapudi - Tummapudi
7.30 AM
5.20 PM
20000
9 E
Revendrapadu - Pedavadlapudi - Atmakur Bye pass - Nirmala Convent
8.10 AM
5.20 PM
12000