Management
Er.Koneru Satyanarayana
President
Inspiring Source
Sri Koneru Satyanarayana, BE, FIE, FIETE, MIEEE graduated in Electronics and Communication Engineering in the year 1977. Along with Sri Koneru Lakshmaiah, he is the co-founder of the Institute which was established in the year 1980. He is an educationist of eminence and also an industrialist of great repute. He runs a number of industries in and around Vijayawada.
Under his stewardship, the Institute grew by leaps and bounds and today it is in the forefront of technical education in the country and is a force to reckon with. A young, energetic and enthusiastic person, he infuses qualities of leadership, sincerity and diversiveness in his commitments and continues to be a guiding factor in the growth of K L Deemed to be University.
Under his inspiring leadership K L Deemed to be University will, undoubtedly, grow and prosper to be one of the Premier Technical Institutions of the country.
Message from the President
Today, we are at the zenith of excellence at K L Deemed to be University. Nevertheless, the quest for constant innovation unfolds relentlessly. Let every step of ours be a conscious and meticulous exercise to improve and enhance.
Education is the very way of our life and when it improves, life does too. Education of the highest order aims at training, guiding, inspiring, motivating and leading young men and women in the ever expanding horizon of insatiable thirst for knowledge coupled with the hankering after the ever so near yet ever so far wisdom and enlightenment. Preparing 'world ready', 'market ready' yet conscionable pupils is by no means a small endeavor. The daunting task of inspiring young minds, setting their hearts on fire, giving them a sense of direction and purpose, something to live up to and live for and giving them the power to act as agents of change and instruments of progress, is the quintessence of the higher education.
Dr. Dr. M Ramamoorty,Chancellor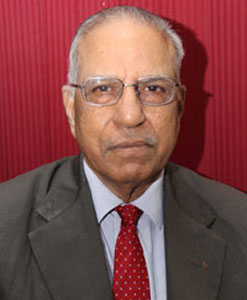 Dr. Ramamoorty assumed charge as Chancellor, K L Deemed to be University with effect from 30th March 2015 after successful career as a Professor in IIT Kanpur and also as first Director General of CPRI.
Dr. Ramamoorty obtained his B.E. (Honors) from Andhra University in 1957 and M.E. from IISc Bangalore in 1959. He obtained his MASc and PhD from Toronto University in 1965 and 1967 respectively.
He was a Commonwealth Fellow at U of T from 1964 to 1967. He then joined IIT Kanpur as a faculty member in the Electrical Engineering Department and became a professor in 1972. He had established the first graduate program in Power Electronics in India in 1968 at IIT Kanpur. He had supervised 12 doctoral projects and was associated with many sponsored research activities with industries like BHEL and Hindustan Steel Limited during his tenure at IIT Kanpur.
In 1977, he joined Hindustan Brown BoveriLimited (now ABB) as Chief of Research where he was responsible for the development of a number of prototypes of switchgear, relays and instrumentation.
He joined the Central Power Research Institute (CPRI) in 1983 as its first Director General. During his tenure, CPRI became a well - recognized research and training laboratory in the power sector. He retired from CPRI service in 1994 and In 1995, he took over as the Director of ERDA. After the completion of his contract in 2006 at ERDA, he demitted his office and continued as Advisor, ERDA for one more year. Under his directorship, ERDA received many accreditations and also became one of the few self - financing research and testing institutions in the country.
During this period, he also served as a visiting professor at many universities like University of Sydney, Washington State University, University of British Columbia and many others and supervised 10 Ph.D Projects during this period. He is recipient of a number of Professional Awards. He has published 7 books on thyristors, power systems, electric machines and hydro - power generation . He holds 4 Patents and patent applications for 4 more have been sent . He is a fellow of both the IEEE and the Indian National Academy of Engineering. He has published more than 200 technical papers in reputed journals. He has been awarded the Honorary Life Membership of Society of Power Engineers for his three - decade - long contribution to the Power Sector.and received the Life Time Achievement Award from IEEMA in 2011.
Dr.L.S.S.Reddy, Vice-Chancellor
Dr. L.S.S. Reddy is an eminent Professor in Computer Science and Engineering Department holding Ph.D in Computer Science Engineering from BITS Pilani. Dr. Reddy is an outstanding administrator, a prolific researcher and a forward looking educationist. Dr. Reddy has over 30 years of experience in Teaching, Research and Administration at prestigious institutes like BITS Pilani, CBIT etc.
Dr.L.S.S.Reddy had joined Koneru Lakshmaiah College of Engineering in December 1995 and proved his administrative excellence as a Head of Department of Computer Science and Engineering. Dr. Reddy was instrumental and a driving force as Principal (2002-2009) in promoting KLCE as one of leading Institutions in India.
KLCE has achieved remarkable growth in all the fronts of higher education under the leadership of Dr. L.S.S. Reddy. In his tenure as Principal of the KLCE, the College got accreditation of all its six eligible UG programs by NBA of AICTE in 2004. Again in the year 2007, KLCE went for Re-accreditation by NBA and this time six of its UG programs got accredited each for five years and the remaining three programs each for three years. It was thus a record achievement. In the year 2006, KLCE was awarded autonomous status by University Grants Commission. His tenure led to an overall excellence in academic, research, infrastructure and systemic development of KLCE. KLCE stood as highest ranked Engineering Institute in India to receive 'A' Grade with CGPA of 3.76 / 4.00 from NAAC in 2007.
His contribution as a Principal of KLCE was very widely recognized and appreciated in converting an Autonomous college into a Deemed to be University u/s 3 of UGC Act 1956 in 2009 and thus KLEF (Koneru Lakshmaiah Education Foundation University) came into existence.
Dr.L.S.S. Reddy has exceptional research credentials. Five research papers were submitted to the research board of BITS Pilani as a part of requirement for Ph. D degree. He had more than 110 Publications in reputed International Journals and several paper presentations in International Conferences. 19 of his Research Scholars were awarded Ph.D under his guidance from various Universities. Presently 4 scholars submitted their thesis and 8 Research scholars are working under his guidance for Ph.D in various Universities. His Research interest areas are Parallel Processing, Software Engineering and Cloud Computing.
Fellowship of Academic bodies and Professional Societies:
Membership of Scientific and Professional Societies:
Senior Member, IEEE ( Computer Society, USA)
Senior Life Member, Computer Society of India (CSI)
Life Member, ISTE
Member, ACM
Member, ASEE (American Society for Engineering Education)
Dr.K.Satya Prasad,Pro-Vice Chancellor
Dr. K. Satya Prasad did his B.Tech. degree in Electronics and Communication Engineering from JNTU college of Engineering, Anantapur, Andhra Pradesh, India in 1977 and M. E. degree in Communication Systems from Guindy College of Engineering, Madras University, Chennai, India in 1979 and Ph.D. from Indian Institute of Technology, Madras in 1989.
He started his teaching career as Teaching Assistant at Regional Engineering College, Warangal in 1979. He joined JNT University, Hyderabad as Lecturer in 1980 and served in different constituent colleges viz., Kakinada, Hyderabad and Anantapur, in different capacities viz., Associate Professor, Professor, and Head of the Department, Vice Principal, Principal, Director of Evaluation, Rector and Director-IST.
He has published more than 250 technical papers in different National & International Conferences and Journals and authored 4 Text books. He has guided 22 Ph.D. scholars and at present 15 scholars are registered for Doctoral award under his guidance. His areas of research include Applied Signal Processing, Image Processing, Speech Processing, Neural Networks & Ad-hoc wireless networks. He holds one patent. He is recipient of 4 State/National awards. Dr. Satya Prasad is a Fellow member in various professional bodies like IETE, IE, ISTE and senior member IEEE.
T. Umamaheswara Rao,Registrar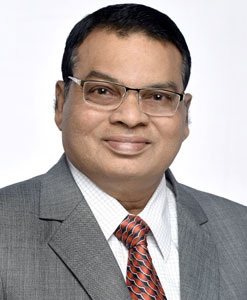 | | |
| --- | --- |
| Name | Dr. T. UMAMAHESWARA RAO |
| Designation | Professor & Registrar |
| Office Address | Registrar, K L Deemed to be University, Vaddeswaram – 522 502, Guntur Dist., A.P. |
| Mobile | 94402 63649 |
| E-mail | proft_umrao@rediffmail.com |
| Permanent Residential Address | Uma Nilayam, D.No.76-1-3/444, H.I.G.444 Phase 10, A. P. Housing Board Colony, Bhavani Puram, Vijayawada – 520 012. |
| Date of Birth | December 15, 1952 |
| Nationality/ Religion | Indian / Hindu |
| Academic Qualifications | M.B.A., M.Com., M.A. (Sociology), M.A. (Philosophy), M.Sc. (Psychology), B.L., Ph.D. |
Research Degree
Designation

Department

Date of Joining

Appointed by

From

To

Lecturer

PG lecturer in Commerce, TJPS College, Guntur, A.P.

11-12-1974

16-11-1979

Andhra University
Posts held at Acharya Nagarjuna University
Designation

Department

Service

From

To

Lecturer

Commerce & Business Administration, ANU

17-11-1979

22-02-1985

Reader

Commerce & Business Administration, ANU

23-02-1985

13-07-1994

Professor

Commerce & Business Administration, ANU

14-07-1994

31-12-2012

Professor

K.L.U B.S., KL

09-12-2013

Till Date
Length of Service
In Post Graduate Teaching - 40 years In Research - 30 years
Senior Most Professor (37 Years) in Acharya Nagarjuna University including the service prior joining to ANU
Areas of Research
Management and Marketing
Areas of Teaching
Management and Marketing
Research Degrees Awarded
Twenty five Ph.D.s were awarded Ten M. Phils were awarded
Research Publications
50 (Fifty)
Editor Text Books
Telugu Academy, Govt. of A.P.
Conferences/Congresses/Symposia Seminars etc., Attended
International - 8 National - 70
Visits Abroad
Visited South East Asian Countries
Academic /Administrative and other positions Held
In-charge Registrar, Acharya Nagarjuna University.
Served as the Prinicpal of College of Arts, Commerce and Law of Acharya Nagarjuna University.
Served as the Head of the Department of Commerce & Business Administration for Two terms, Acharya Nagarjuna University
Served as Chairman, BOS (P.G) Commerce & Management Studies, Acharya Nagarjuna University.
Served as the Dean, Commerce & Management Studies, Acharya Nagarjuna University
Served as Co-ordinator - Employment Bureau, Acharya Nagarjuna University.
Ex-Director, The Dhanalakshmi Bank Limited, Thrissur, KERALA.
Awards and other Distinctions
Recipient of Best Teacher Award from The Government of Andhra Pradesh for the year 2007.
Recipient of Career Award for Young Scholars in Humanities and Social Sciences awarded by University Grants Commission, New Delhi.
Won the First place in All India Essay writing Competition on "State Take over of Wholesale Wheat Trade" conducted by Competition Review Success, New Delhi.
Was awarded a Gold Medal for standing First in the State level Debating Competition.
Membership of the Learned Bodies:
Life Member : Indian Science Congress Association
Life Member : All India Commerce Association
Life Member : Indian Institute of Public Administration
Life Member : Andhra Pradesh Academy of Psychologists
Former Special : Accounting Standards Board, Institute of
Invitee (Twice) Chartered Accountants of India, New Delhi Nominated by University Grants Commission, New Delhi
Other Positions:
Expert Committee Member, UGC to review Deemed to be Universities status of the following Universities:
Jaypee Institute of Information Technology, A-10, Sector-62, Noida.
North Eastern Regional Institute of Science & Technology, Nirjuli, Itanagar, District, Papum Pare – 791 109, Arunachal Pradesh.
Christ University, Bangalore.
Periyar Maniammai University, Thanjavur, Tamilnadu State.
Pt. Ravishankar Shukla University, Raipur interface meeting with Principals for XI Plan Grant.
Expert Committee member to sanction Private University in Himachala Pradesh.
Expert Committee member to sanction Private University in Sikkim.
Ex-Academic Senate Member SK University, Ananthapur, Andhra Pradesh.
Ex-Academic Senate Member, Acharya Nagarjuna University.
Trustee, Siva Educational Foundation, Visakhapatnam.
AICTE Expert Committee Convener, New Delhi.
AICTE Task Force Member, New Delhi.
Member – Board of Studies of various Universities.
Expert Committee Member – A.P. State Council of Higher Education
Dr.A.Anand Kumar
Principal
Name
a.anand kumar
Place of birth
angaluru – krishna district
B.e
electrical engineering -1971
Andhra university
Ist class
M.sc(engg.)
advanced electronics and control systems rec, kurukshektra- 1974 – ist class
Ph.d
andhra university, 2010
Teaching experience
1974-79
lecturer , REC, kurukshetra
1979-80
lecturer, VRSEC, vijayawada
1980-82
asst.professor, NBKRIST,Vidya nagar, nellore
1982-83
asst.professor, KLCE, vijayawada.
1983
asst.professor,KSRM college of engineering, kadapa.
1983-2000
professor, ECE department,SDM college of engineering, dharwad.
2000-2006 & 2011-2012
principal, sir c.r reddy college of engg., eluru.
2006-2011
director , SITE, t P Gudem.
2012 july 25th To till date
principal, college of engg.,KL.
Acted as chairman bos, ece of karnataka university, dharwad, for 3 years.
Acted as special officer, vtu regional office, belgaum for 1 year.
Acted as member of bos of kuvempu and gulbarge university, karnataka.
Authored six books:-
Fundamentals of Digital Circuits – 3rd Edition.
Pulse and Digital Circuits – 2nd Edition.
Control Systems – 2nd Edition.
Switching Theory and Logic Design – 2nd Edition.
Signals & Systems - 3rd Edition.
Digital Signal Processing – 2nd Edition.
All published by PHI Learning.